Proud to be an Egghead!
Abra Roberts
Apr 20, 2016
I remember the first time Darlene Forshage asked if the bank wanted to be involved with the Texas Freshwater Fisheries Center "Big Green Egg" event. My initial thought was "not so much"; I don't know what an Egghead is and don't have a clue how to cook on one of those big green eggs. So, as usual I started talking to my co-workers and the next thing I knew, we were at Athens Screen Printing ordering customized t-shirts.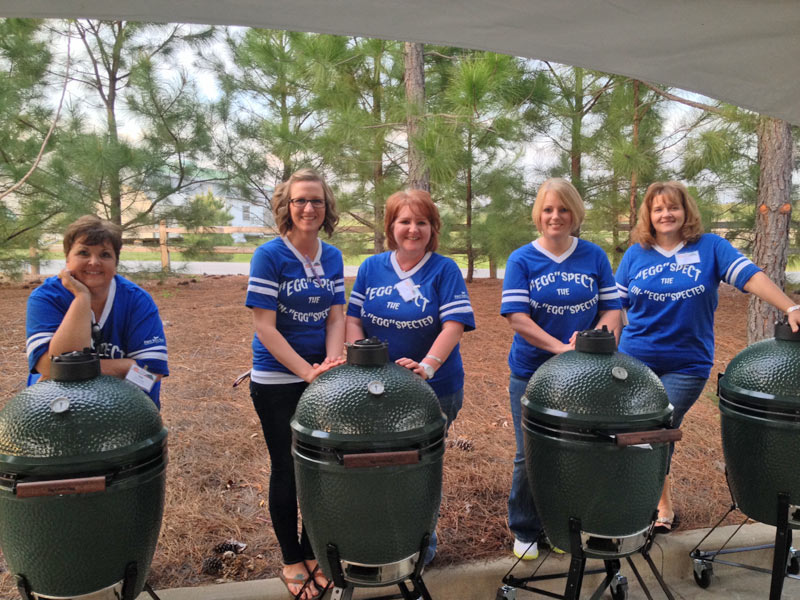 Committed? YES…..having a clue what we were doing?….No! That's when the "Egg-Spect" the "Un-Egg-Spected" team came together and the fun began. With our three menu items selected, we were ready for the Thursday night kick-off party and were not disappointed. The team from Morrison Food's knows how to throw a party and once we were among the other "Eggers", we felt more comfortable about this new experience.They provided us with F O U R grills…..we didn't know how to cook on ONE grill, but undoubtedly they saw the look on our faces and eventually with enough instructions we were on our way. To say that we impressed ourselves (and everyone else) is an understatement! The entrée's turned out perfect every single time and by the end of the day we had a line for our cupcakes. We couldn't cook them fast enough, of course….they were chocolate, with creamy chocolate icing, stuffed with a Rolo candy, covered in toasted coconut and a malted Easter egg placed on top!
To top off the day, we were able to spend time visiting with other "Egghead's" sampling some of the best food around.
This is hands-down one of the most fun events the bank sponsors each year and we are looking forward to seeing you there next year. Sign up to cook or just come out and sample the goodies….either way, it's the perfect way to spend a Saturday.